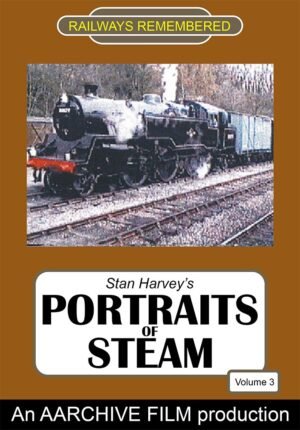 Stan Harvey's Portraits of Steam Vol 3
Between 1995 and 1997, Stan Harvey visited the Severn Valley Railway and filmed many hours of activity on video for his personal library. The action shots have now been edited into the 3rd album in the series 'Portraits of Steam.'
Description
DVD – Colour – 50 minutes
Between 1995 and 1997, Stan Harvey visited the Severn Valley Railway and filmed many hours of activity on video for his personal library. The action shots have now been edited into the 3rd album in the series 'Portraits of Steam.'
The line today extends from Kidderminster to Brignorth with stations at Bewdley, Ardley, Highley and Hampton Loade. The film begins with archive footage filmed around 1973 at Brignorth, with a narrated history of the line.
From then on the camera work of Stan Harvey takes over with super shots of the many preserved engines in action. Also included are sequences of shunting in the old fashion way, plus some of the most preserved engines in the UK.
There is no story line and very little narration and music – the film simply sets out to portray steam activity for all who love the old railways.
An Aarchive Film Production
Specifications
---
All the DVDs are produced, packed and sent directly from Aarchvie Films.
The original documentaries were made on S-VHS, in a 4:3 ratio, so on a standard TV/computer screen, will show black bars on both sides.
There is some very brief areas of 'dropout' when they were converted from S-VHS video to digital. We have done the best we can to reduce this, but it is still there.
All of the documentaries were produced by Roger Lilley of Aarchive Films, who passed away 20 years ago. Some of the 'modern' footage is from between 1995 – 2000, so some of the newer footage may look different now. Also, when Roger would would use the term 'today', this was written back in before 2001.
---
Digital Remasters
Some of the video have been digitally remastered, into a 16:9 widescreen format, with updated maps, sound, colour grading and more.
The new remastered versions are online only from our Patreon Page. The DVDs are still the original format above.