In 1951, a small boy was walking to school. As he passed a shop, he looked in the window and saw a 9.5mm hand turned projector. For a moment, he stopped and stared at it. With his mouth slightly open, he was amazed to see a projector for sale and he had only one thought on his mind, 'He wanted it!'
Day after day, on his way to and from school, he saw the same projector, and wanted it all the more. But one afternoon, on the way home, as he passed the shop and looked in the window, to his shock and horror, the projector had gone.
The young boy was broken hearted. He walked home from school, very slowly, almost in tears, the one thing he wanted most in the world had gone. He came in, slowly shut the front door, put his school cap and coat away and went into the kitchen. There stood his father, and on the kitchen table, the same projector and a small spool of film!
Instantly, his face lit up at the sight of it, and with a big hug for his dad, they put the film on together. The film was a horse running across a field. It was only very short, about one minute long, but as the father slowly turned the handle of the projector, the young boy knew he wanted to see more films.
That young boy was Roger Lilley and that true story is how he became one of Plymouth's best documentary makers and one of the UK's leading expert of Super 8 and Standard 8mm of cine film.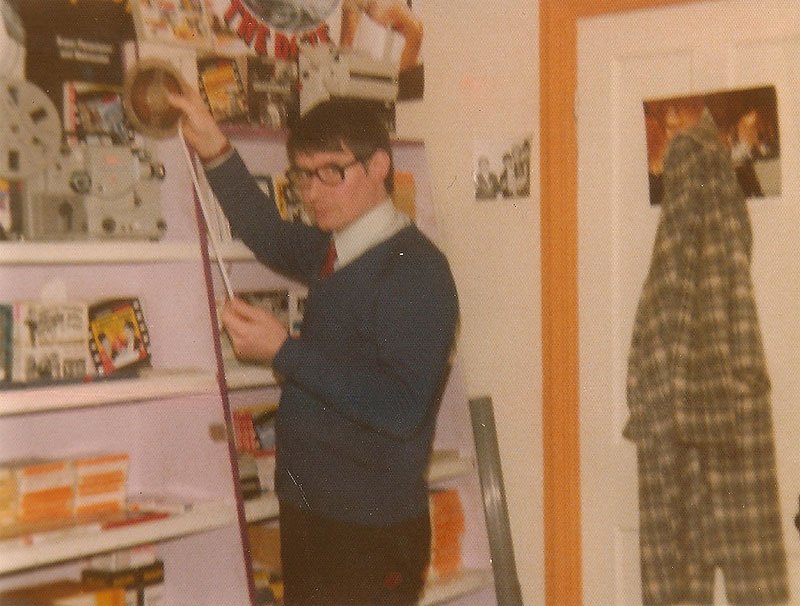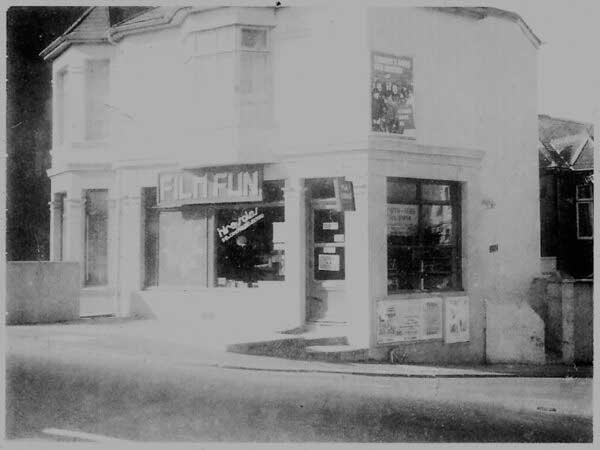 Roger loved films. As he grew up, he knew he would need a career, and decided to train as an accountant. To support himself, he worked in the Drake Odeon cinema, Plymouth as a projectionist. He spent a many a happy evening, splicing films together, putting them on the 35mm projectors and watching the films.
After Roger qualified as an accountant, he began training at a firm of accountants in Plymouth. After a few years, Roger was confident enough to start up his own accountancy business but his love of films never died.
As the accountancy grew, so also did the hire and sales of cine films, and soon, Roger and Jill found they were selling films all over the UK, and then, all over the world. They had to move to bigger premises in Plymouth, and called the company Looney Movies, after cartoons that would made in the 1960's and because Roger had a sense of humor. 
The new house at Hooe had a garage at the bottom of the garden, and Roger decided to convert it into a cinema. One of the old cinemas in Plymouth had recently been closed, and Roger had managed to obtain from the owner, eight of the original cinema seats. He installed a small projection room, with dual projectors. A screen, with opening and closing curtains and a full letterbox format for Scope movies. Full stereo sound, which for the time was the best you could get. And he would even stock up on ice creams for when friends came around—he had his own working cinema.
In 1970 Roger and Jill had a daughter, Rachael, and in 1975, a son, Philip. Both the children loved the cinema, and were very popular at school, as you might imagine. Phil in particular remembers the home cinema his dad had built with great affection. The first thing he can remember seeing in there, was the 400ft cut down of Star Wars – A New Hope. Since it was a cut down version, it was only the last 15 minutes of the film, with the attack of the Death Star by the Rebellion. Roger can still remember Phil watching it over and over again, mouth wide open. It reminded him of when he was a boy.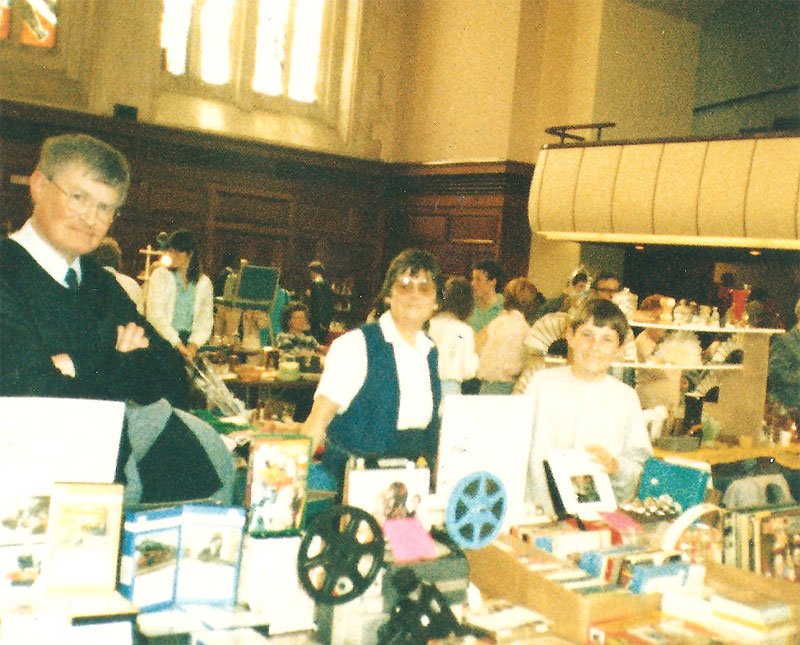 As time went by, both the accountancy and Looney Movies became Movieland International. Roger and Jill had to employ two other members of staff to keep up with the demand for the cine film sales. At its peak, Movie Memories was selling cine film all over the world, America, Canada, Australia and all over Europe. It had established itself as the third largest company in the UK for dealing with Super 8 and Standard 8mm cine film; just behind Derann Films and Perry's Movies.
At film conventions, the largest of which, was and still is, held in Blackpool in November of every year, Roger and Jill were well known faces. It could be said that Roger was one of the UK's leading experts in 8mm film.
From The Sound of Music to Alien to Tom & Jerry, if you wanted to have a film show, you could rent or buy an 8mm projector, screen, speakers and movies from Roger, wait until dark and then show the films. There is still a market for 8mm films, but they can cost the best part of £1,000 each.
In 1992, Phil left school and needed to find a job. It was around the same time, that one of Movieland International customers approached Roger and asked if he could transfer some of his home movies on to video for him. Roger and Phil thought about this, and set about, putting their combined knowledge together to work out how they could. In an upstairs bedroom, the first cine film to video transfer took place.
Even with the limited equipment they had, the quality was still fantastic and the customer was over the moon with it. So, since the sales of cine films was slowly starting to die out, with the introduction of VHS video, Roger and Phil changed MovieLand to Aarchive Films and putting cine film on to video, first locally in Plymouth, but have ended up transferring cine film from all over the world.
The oldest cine film they transferred was from 1898 of a train travelling from Barnstaple to Ilfracombe. The quality wasn't the best, but you could still see the images.
In 1995, a man called Reg Blackett, contacted Roger in connection with having some 16mm cine film put on to video. As they spoke, Roger learned that Reg was a keen amateur cinematographer, and is his youth, had filmed an awful lot of the history of Plymouth. One of the things that Reg had so lovingly recorded was the old Saltash ferry. The footage that Reg had was priceless and completely unique, Roger knew he had to do something about it. With his son Phil, and this time his father, Gerald, they started work on a script entitled Plymouth's Historical Ferries & Bridges.
Roger, Phil and Gerald did not really know that much about documentary making, but Roger knew someone who did. Whilst working in the Drake Odeon cinema in Plymouth, Roger worked with a young man called Roger Underwood. When they had left the cinema they had both taken different paths, but both still working in moving pictures. Roger with cine film and Roger Underwood carried on as a projectionist, until he set himself up as a cameraman and documentary maker—the timing was perfect.
The two Rogers sat down and started work on the new documentary. Gerald worked on the script and Phil worked on the technical side. When the video was finished it was an instant hit with the local TV and people of Plymouth. So many of them had memories of the ferry journey and it sold out in almost every outlet stocking it.
So, Roger and Phil had started on a new road, documentary making, and have up till now made eight titles of the history of Plymouth, and over 20 titles of historical railways, from the South West and all over the UK.
In 1998, unfortunately, Roger was diagnosed with bowel cancer and after a 3 year battle, passed away in June of 2001, he was only 57 years young.
His son Phil, still runs Aarchive Films lovingly putting your home movies on to digital. He had been doing it as a full time job now since 1992.
Since his Roger's death, Phil has transferred the video to DVD, and now on to digital to stream on the growing YouTube Channel. Phil is also working on new historical videos, see the BLOG for more details.