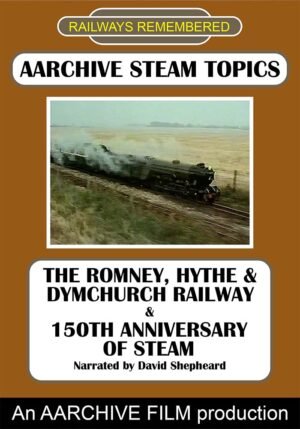 Aarchive Steam Topics
Also featured, the classic film – London to Brighton at 500 m.p.h.
Description
DVD – Colour – 58 minutes
Romney Hythe and Dymchurch Railway
What a treat for all steam railway enthusiasts. A beautifully photographed video, entirely devoted to the legendary R H & D Railway. The smallest public service in the world, designed by Henry Greenly in 1926. It has become not only a firm favourite with all devotees of steam but a source of great enjoyment to many holidaymakers visiting the Kent coast.
Can you imagine a more magnificent sight than the 15 gauge engines steaming along the Kent coast across Romney Marsh to Dymchurch with a top speed of 25 miles per hour and able to carry 200 passengers. The railway enjoyed a Royal visit by the Queen in 1957 and among other famous visitors were Laurel and Hardy in 1947. A truly wonderful film, which will surely become a collectors item in the future.
150th Anniversary of Steam
The anniversary of steam traces the history of the Stockton – Darlington Steam Railway, and at it's anniversary, hundreds of engines gathered on site to show that steam engines are not dead. A replica of George Stephenson's invention was actually run along the track. All types of steam locomotives are featured throughout the film, which will delight enthusiasts of the not forgotten steam train.
Also featured, the classic film – London to Brighton at 500 m.p.h.
An Aarchive Film Production
Specifications
---
All the DVDs are produced, packed and sent directly from Aarchvie Films.
The original documentaries were made on S-VHS, in a 4:3 ratio, so on a standard TV/computer screen, will show black bars on both sides.
There is some very brief areas of 'dropout' when they were converted from S-VHS video to digital. We have done the best we can to reduce this, but it is still there.
All of the documentaries were produced by Roger Lilley of Aarchive Films, who passed away 20 years ago. Some of the 'modern' footage is from between 1995 – 2000, so some of the newer footage may look different now. Also, when Roger would would use the term 'today', this was written back in before 2001.
---
Digital Remasters
Some of the video have been digitally remastered, into a 16:9 widescreen format, with updated maps, sound, colour grading and more.
The new remastered versions are online only from our Patreon Page. The DVDs are still the original format above.