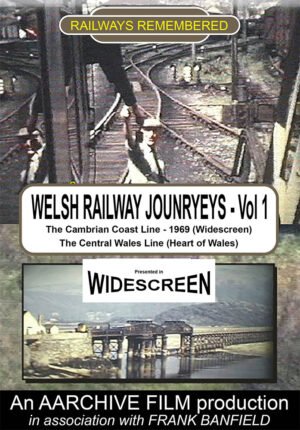 Welsh Railway Journeys
The Cambrian coast line, 1969 (Widescreen) and The Central Wales Line (Heart of Wales).The Cambrian coast line, 1969 (Widescreen) and The Central Wales Line (Heart of Wales).
Description
DVD – Colour – 30 minutes
Part One: The Cambrian Coastline
Filmed in full 2.35:1 Cinemascope by Richard Green in the early 1970s, this film takes the viewer through some of the most beautiful scenery in Wales. Includes scenes from the cab of the DMU and Richard Green's original narration and sound. It covers the journey from Machynelleth to Pwllheli with superb scenes across the Barmouth Viaduct. Stations include Towyn, Llwyngwryl, Fairbourne, Barmouth, Dyffryn, Harlech, Penryhndeudraeth, Minfford, Portmadog, Criccieth, Afon Wen and Abereirch.
Part Two: The Central Wales Line
Filmed in normal format and transferred slightly cropped, Richard Green takes us from Llanelli to Shrewsbury in Shropshire. On this line were stations such as Llandillo, Llandovey, Llanwrtyd Wells, Builth Wells, Llandrindod Wells, Knighton and Craven Arms. Richard captures on film an exchange of DMU drivers from cab-to-cab on the way. Original narration and sound takes us on a journey into the past.
This film concludes with just a snippet of 'Steam Activity' around Barmouth in the 1960s as a taster of releases to come.
An Aarchive Film Production
Specifications
---
All the DVDs are produced, packed and sent directly from Aarchvie Films.
The original documentaries were made on S-VHS, in a 4:3 ratio, so on a standard TV/computer screen, will show black bars on both sides.
There is some very brief areas of 'dropout' when they were converted from S-VHS video to digital. We have done the best we can to reduce this, but it is still there.
All of the documentaries were produced by Roger Lilley of Aarchive Films, who passed away 20 years ago. Some of the 'modern' footage is from between 1995 – 2000, so some of the newer footage may look different now. Also, when Roger would would use the term 'today', this was written back in before 2001.
---
Digital Remasters
Some of the video have been digitally remastered, into a 16:9 widescreen format, with updated maps, sound, colour grading and more.
The new remastered versions are online only from our Patreon Page. The DVDs are still the original format above.